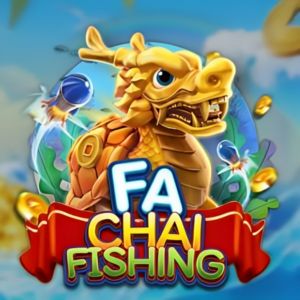 Fa Chai Fishing Game Review & Free Demo
Fa Chai Fishing Game is a fish shooting game developed by JILI with Thunder Ball, and Chain Gun Read our review to learn how to play Fa Chai Fishing today. Fa Chai Fishing is not just a game; it's an exhilarating underwater adventure that promises players a chance to strike it rich while enjoying an action-packed, immersive gaming experience.
The name "Fa chai," meaning "get rich" in Chinese, perfectly encapsulates the spirit of this popular fish shooting game. With vibrant graphics, unique game mechanics, and enticing features, Fa Chai Fishing invites players to explore the deep sea, where they'll encounter Lucky Money Turtles, special weapons like Autocannon and Thunderball, and a diverse array of sea creatures.
This game offers the opportunity to chase the lord of the sea, with the deep-sea giant Tycoon Lobby squid and the promise of substantial rewards. Each moment in the game is filled with excitement, and players have the chance to win big prizes, all while immersing themselves in a visually stunning underwater world.
Free Demo: Fa Chai Fishing
Fa Chai Fishing Details & Information
<
| | |
| --- | --- |
| Software | Jili |
| Type | Video Arcade |
| Max Win | 1000X |
| Sit Per Table | 4 |
| Min Coins Size | 0.10 |
| Max Coins Size | 100 |
| RTP | 97% |
How to Play Fa Chai Fishing
Read through this section to learn how to play Fa Chai Fishing! You will learn about understanding the game mechanics, placing your bet & paylines and selecting the game room.
1. Understanding the Game Mechanics
To become a proficient Fa Chai Fishing player, it's essential to understand the game mechanics. This understanding encompasses the following elements:
Target Control (Auto Shoot)
With this feature, the game automatically fires your weapon at the aquatic adversaries, making it perfect for those who prefer a more relaxed gaming experience. Auto Shoot allows you to focus on strategy and aiming for high-value targets without the need for manual firing.
Choose Your Weapon
To enhance your chances of success, Fa Chai Fishing provides two primary weapons: the Autocannon and Thunderball. The Autocannon offers a basic 10x payout and the opportunity to accumulate more bullets to fire, increasing your chances of hitting valuable fish.
2. Placing Your Bet and Paylines
Once you've mastered the game's mechanics, it's time to place your bet and configure the number of paylines. Your bet and payline choices directly influence your gaming experience and potential winnings. Select your preferred bet amount and decide how many paylines you wish to activate.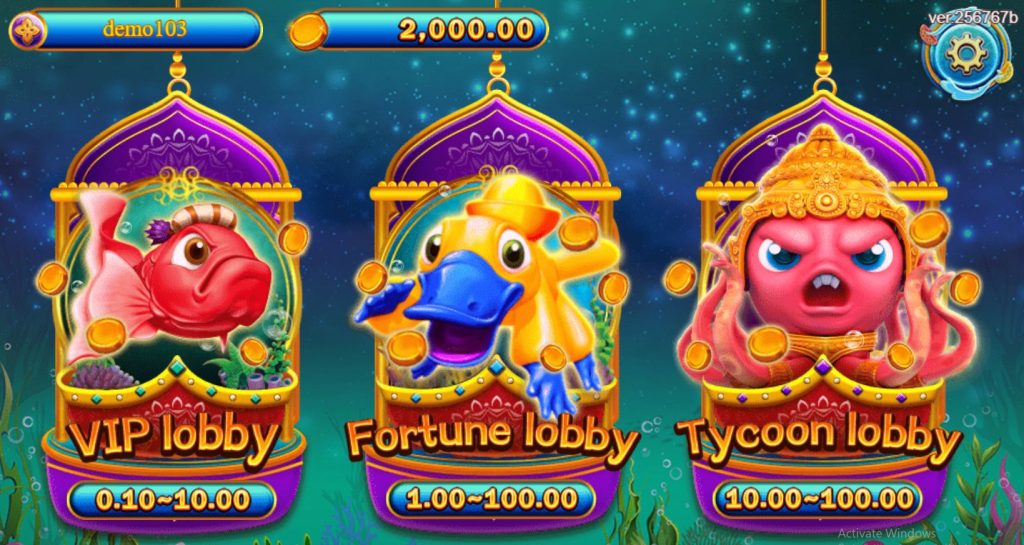 3. Selecting the Game Room
Choosing the right game room is crucial to your gaming experience. Whether you're a novice or an experienced player, there's a suitable game room for you to explore the captivating challenges Fa Chai Fishing offers. Select a game room that aligns with your betting preferences and the level of challenge you seek.
By mastering these game mechanics, understanding the different weapons, and wisely choosing your bets and paylines, you'll be well-prepared to embark on your Fa Chai Fishing adventure and increase your chances of success.
Game Features of Fa Chai Fishing
The game features of Fa Chai Fishing is really attractive, included tycoon lobbys arrival, eye catching tycoon lobby fish, varied gameplay moments, special game patterns & instructions and energy accumulation. Let's dive in and checkout each of them below!
1. Tycoon Lobby's Arrival
Fa Chai Fishing introduces the arrival of the deep sea giant, the Tycoon Lobby squid. This addition marks a significant feature of the game, bringing an element of surprise and extravagance to your gameplay.
When the Tycoon Lobby squid makes its appearance, it comes with a lucky wheel, offering you the potential to become a millionaire without even realizing it. The stunning visuals of this feature immerse you in the most beautiful underwater scenes of fish shooting games. 
2. Eye-Catching Tycoon Lobby Fish
These aquatic creatures are designed to leave you in awe with their visual splendor. The attention to detail is remarkable, with spectacular firing turrets, perfect swarms of fish, and the mesmerizing sight of a mountain of gold coins. 
3. Varied Gameplay Moments
One of the standout features of Fa Chai Fishing is its division into distinct gaming moments. The game's structure is designed to allow you to control these moments, making your experience customizable.
4. Special Game Patterns and Instructions
Fa Chai Fishing introduces various special game patterns and instructions that add depth to your gameplay. Let's explore these unique patterns:
Thunderball: This feature electrifies your gaming experience. It offers a basic 10x payout and a free Thunderball. The excitement peaks when the Thunderball is launched, as it can catch any fish on its route, excluding those locked by the Chain gun. The real thrill comes when the Thunderball explodes, offering the chance of significant wins.
Chain Gun: The Chain Gun feature adds an extra layer of excitement to Fa Chai Fishing. With a basic 10x payout and the possibility to receive 20 to 100 free bullets, the Chain gun ensures non-stop action. Players can accumulate bullets by repeatedly hitting the Chain gun with free bullets. The Chain gun's unique ability to collect up to 999 bullets ensures a thrilling and immersive gaming experience.
Lucky Money Turtle: When the Lucky Money Turtle makes its appearance on your screen, it's time to collaborate with fellow players to chase a fortune. The Lucky Money Turtle offers the golden opportunity to win up to 300x your bet score. The excitement continues until the Lucky Money Turtle leaves, providing players with the chance to accumulate substantial rewards.
Lucky Axel: Catching the Lucky Axel triggers a change in your gaming fortune. It offers an opportunity to win between 40x to 200x your bet. This feature adds a layer of strategy and excitement to the game, allowing you to fine-tune your odds of success.
Lucky Red Envelope: Red envelopes are synonymous with good luck, and Fa Chai Fishing introduces a thrilling red envelope game. Players can trigger this bonus feature by catching red envelopes or hitting specific fish. The game within the game offers the potential to win between 2x to a staggering 1000x in Lucky red envelopes. These surprises make every moment in Fa Chai Fishing a thrilling experience.
5. Energy Accumulation and Auto-Trigger
As you embark on your shooting adventure, your shots accumulate an energy value. Once this value reaches its maximum, an automatic trigger enhances your gameplay. This feature ensures that the more you play and engage, the closer you get to unlocking additional gaming potential.
These captivating game features make Fa Chai Fishing an action-packed experience that keeps players coming back for more. Each element adds depth and excitement, making it an ideal game for those seeking both entertainment and substantial rewards.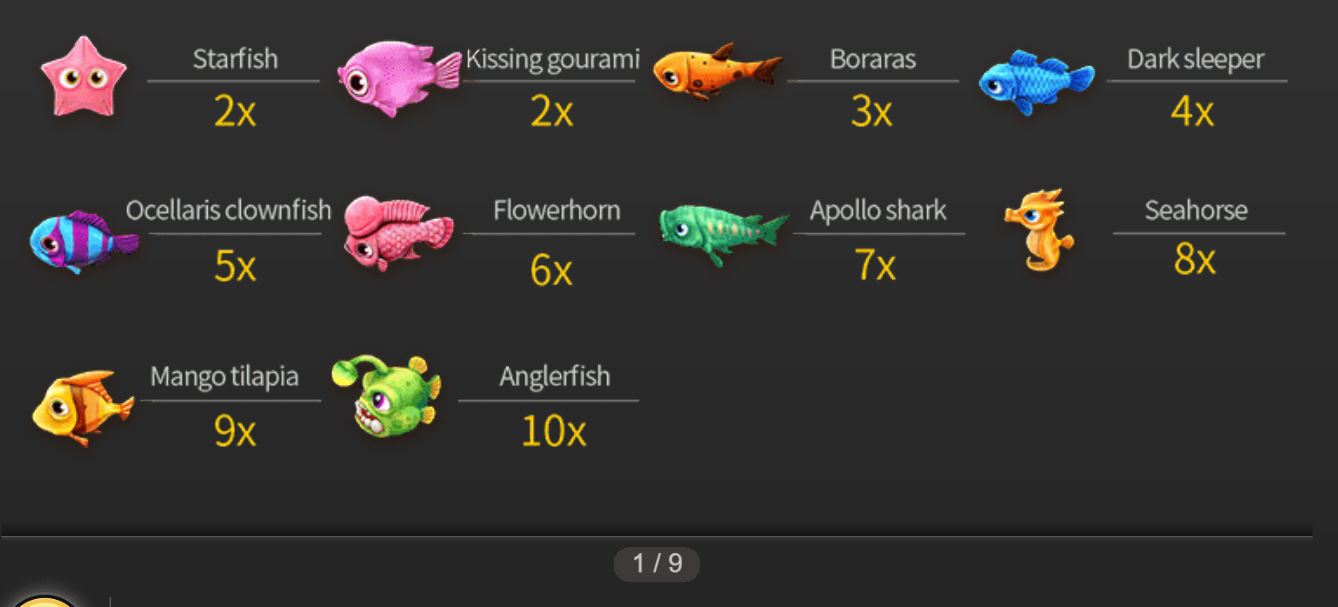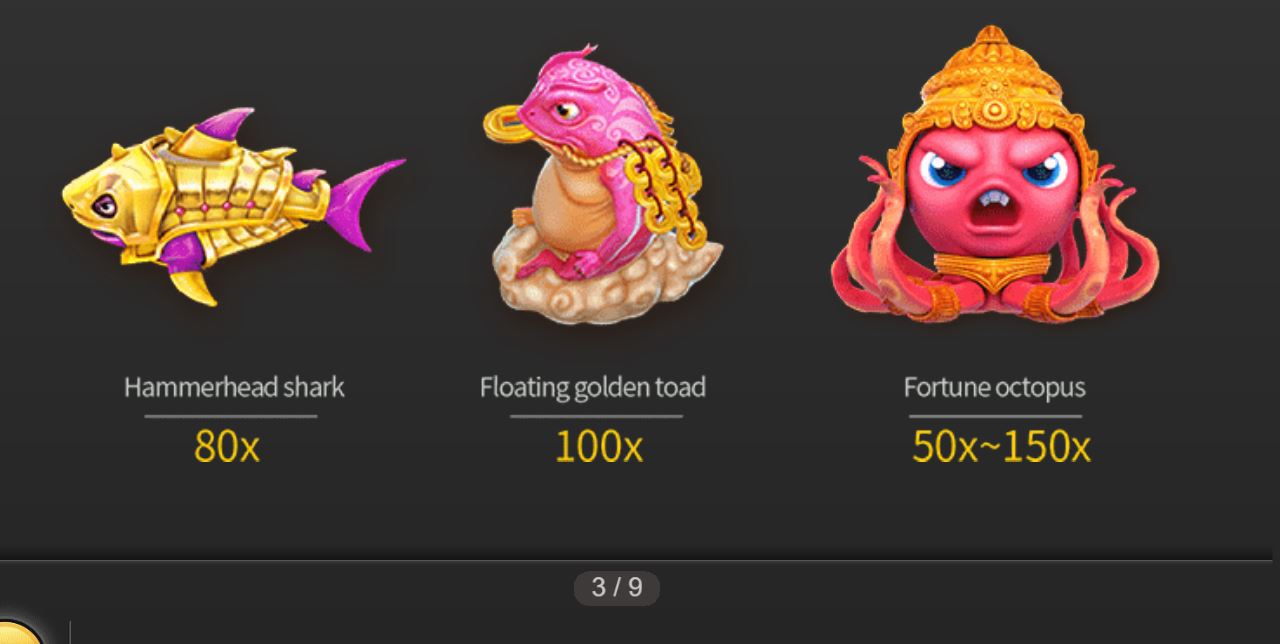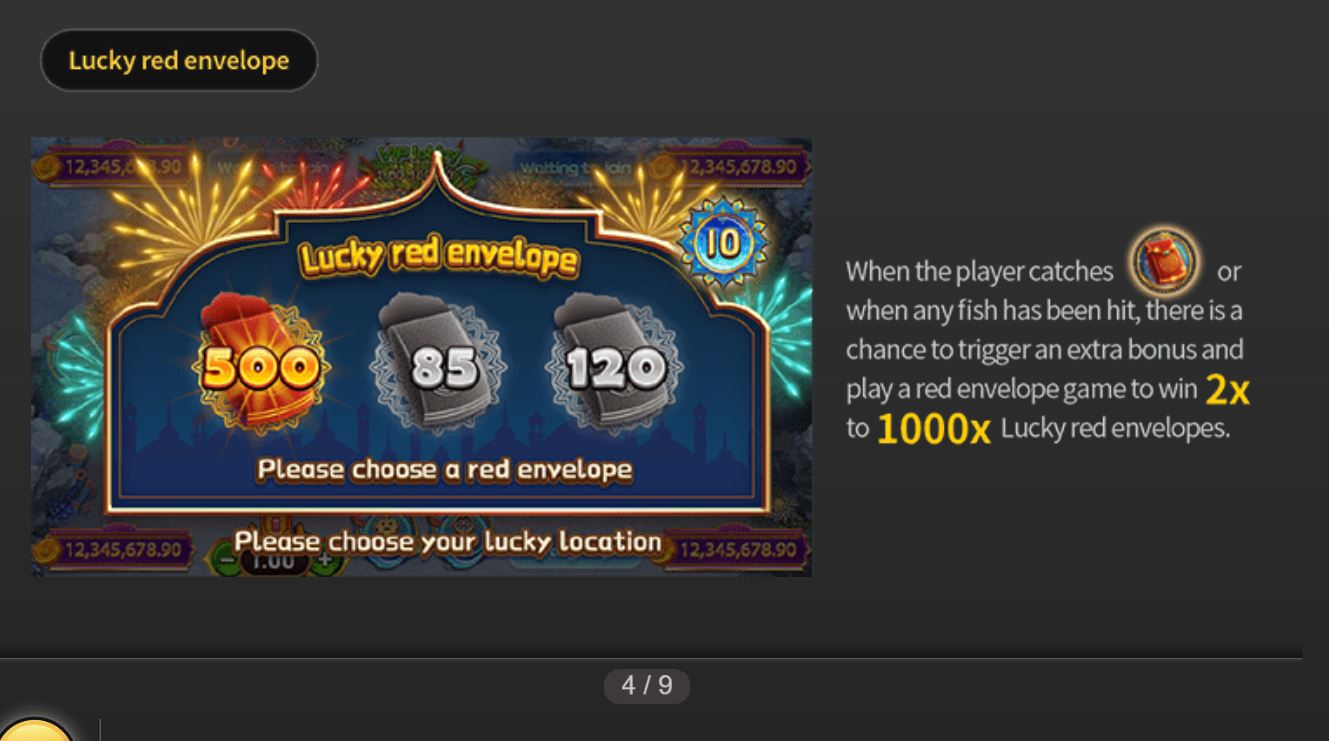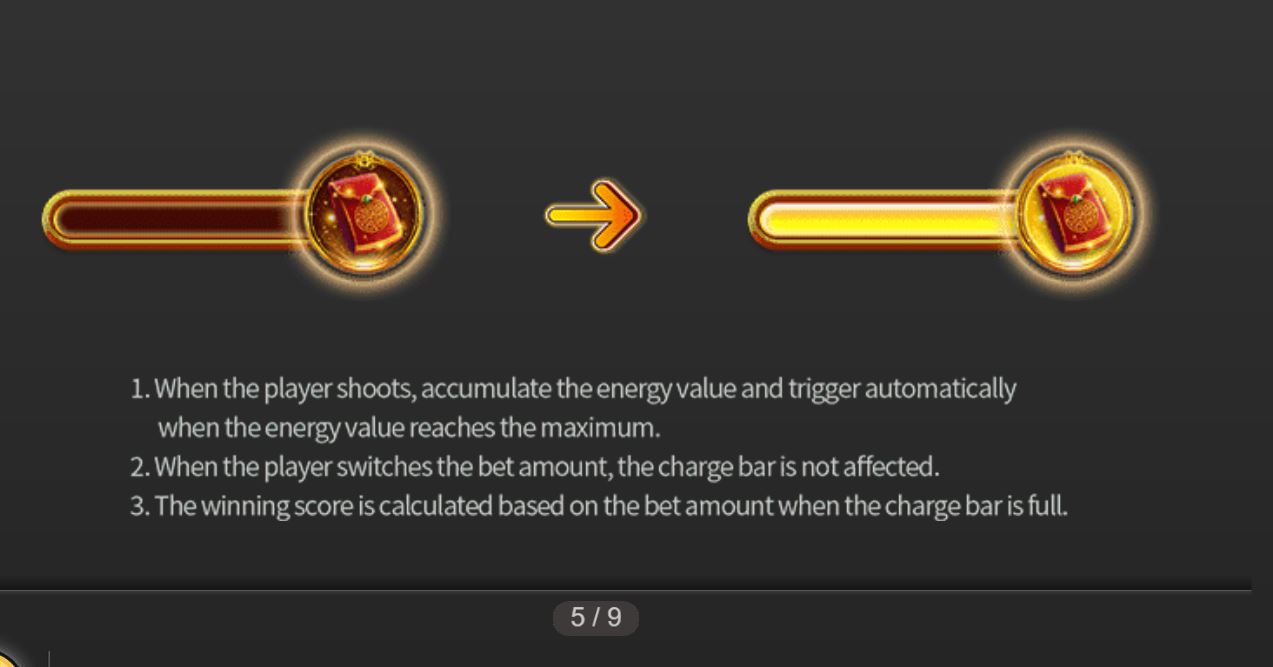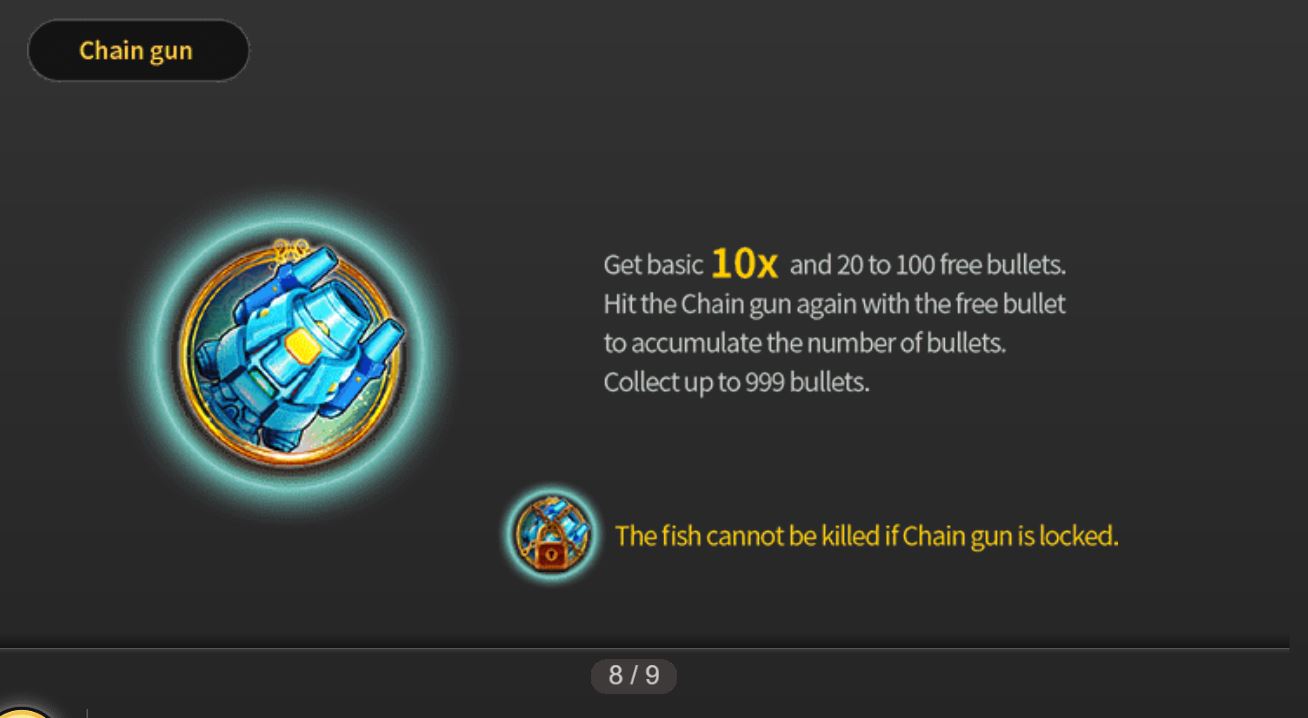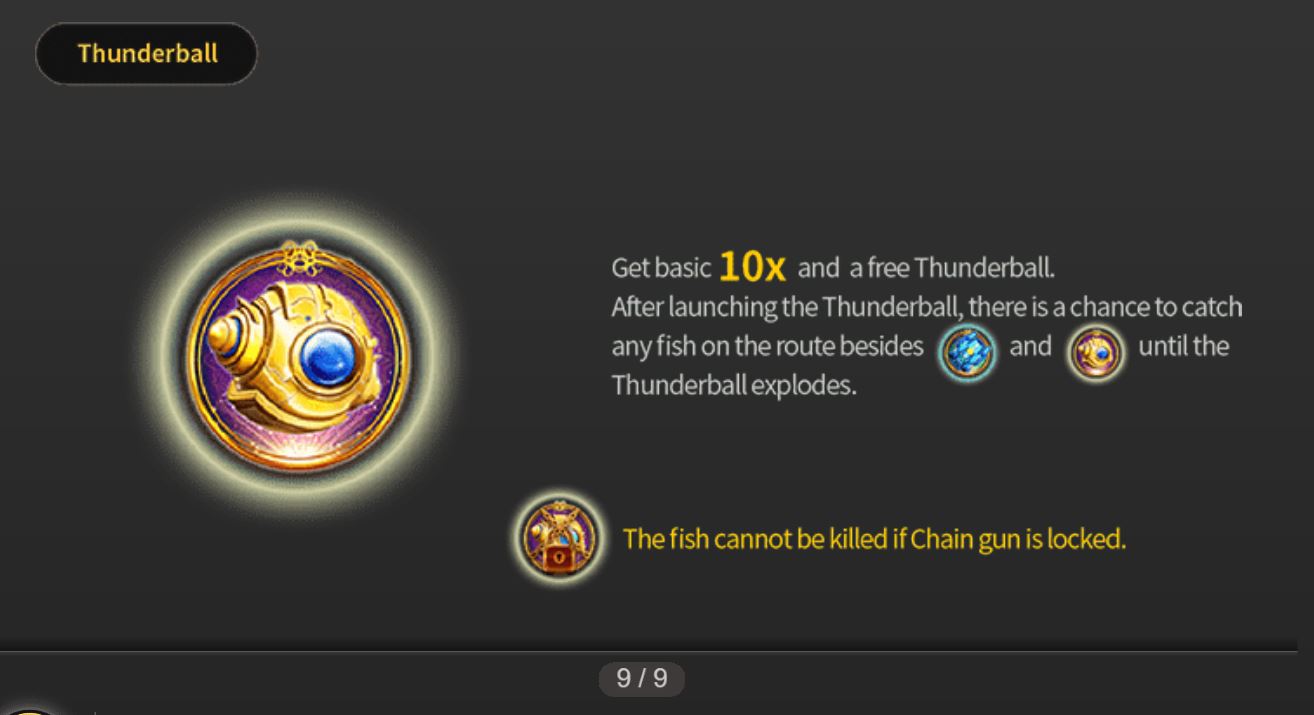 Fa Chai Fishing Winning Strategies
Apply our 5 winning strategies below to win at Fa Chai Fishing, included master the patterns, choose your weapon wisely, keep an eye on the charge bar, adjust your bet strategically and practice patience timing.
1.Master the Patterns
As mentioned in the previous sections, Fa Chai Fishing offers various unique game patterns, including Thunderball, Chain Gun, Lucky Money Turtle, Lucky Axel, and Lucky Red Envelope. Understanding and mastering these patterns is crucial, as they hold the key to significant wins.
2.Choose Your Weapon Wisely
The game equips you with two primary weapons, the Autocannon and Thunderball. Each weapon has its unique advantages. Autocannon offers rapid fire, while Thunderball can catch multiple fish at once. Tailoring your choice of weapon to your playing style and objectives can significantly impact your success.
3.Keep an Eye on the Charge Bar
Your energy accumulation is vital for auto-triggers and winning calculations. Pay close attention to your charge bar. When it's full, your chances of winning big are maximized.
4.Adjust Your Bet Strategically
Fa Chai Fishing allows flexibility in betting. You can switch your bet amount without affecting your ongoing gameplay. This flexibility is valuable for adjusting your bet amount according to your progress and strategy. If you're on a winning streak, consider increasing your bet for even more substantial rewards.
5.Practice Patience and Timing
Fa Chai Fishing is a game of patience and timing. Take your time to observe the swarms of fish continually emerging. Waiting for the right moment to shoot increases your chances of hitting the most valuable fish.
Trusted Casino To Play Fa Chai Fishing

Trusted Casino to play Fa Chai Fishing is Megapanalo. If you're eager to dive into the thrilling world of Fa Chai Fishing Game, one of the best destinations to explore this action-packed game is Megapanalo Casino. With its exceptional platform, Megapanalo Casino offers an immersive and rewarding experience that perfectly complements the excitement of Fa Chai Fishing.
Megapanalo Casino stands out as a top-tier choice for several compelling reasons. This online casino combines a user-friendly interface with a rich selection of games and an enticing environment, making it suitable for both newcomers and experienced players.
In conclusion, Fa Chai Fishing is a thrilling and rewarding fish shooting game that offers a captivating underwater adventure. The introduction of the deep sea giant Tycoon Lobby squid and the eye-catching Tycoon Lobby fish make this game a visual delight, with spectacular firing turrets, perfect swarms of fish, and the allure of a mountain of gold coins.
With its unique game mechanics, players can take advantage of features like auto-shooting, choosing their weapon, and adjusting their bets, providing flexibility and excitement. By mastering the game's patterns and instructions, they can enhance their chances of winning big.
Overall, Fa Chai Fishing offers an opportunity to explore the depths of the sea while aiming for substantial rewards and surprises that lie beneath the waves.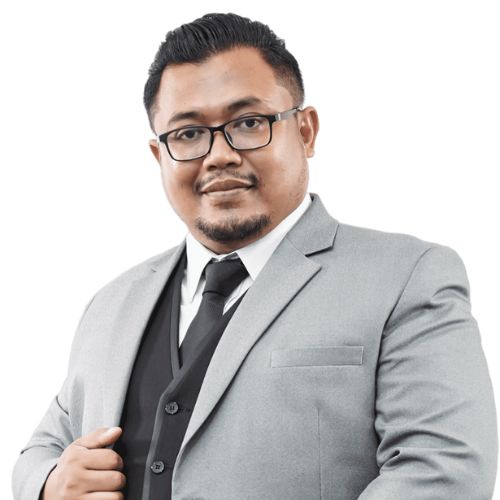 Blog Manager at Megapanalo
Jonathan Johari, a dedicated and experienced Blog Manager at Megapanalo Online Casino, a premier online casino based in the Philippines. With a passion for the world of gambling and entertainment, Jonathan curates engaging and informative content that keeps players informed about the latest trends, strategies, and updates in the dynamic realm of online casino gaming. Armed with a deep understanding of the industry, Jonathan strives to create a vibrant and enriching experience for players as they explore the diverse array of games and opportunities that Megapanalo Online Casino has to offer.
This blog post contains general information and advice, intended for educational and informational purposes only. The content provided in this post is not intended as a substitute for professional guidance or personalized advice. Readers are advised to consult appropriate professionals in the respective fields to address their individual needs and concerns.
This blog post is intended to provide general information and advice, but it is not a substitute for professional guidance. Readers should exercise their own judgment and seek appropriate professional advice before making decisions based on the information provided here. The authors and publishers are not liable for any consequences arising from the use of this information.