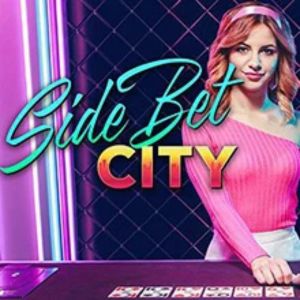 Introduction to Side Bet City Live Casino Game
Side Bet City is a Live Game Casino and RTP is 96.69%. Read our review to learn how to win big at Side Bet City Live game casino today. Let's dive into our comprehensive guide on Side Bet City, the thrilling table game that brings the neon-bright 1980s vibes to the world of live casinos.
Developed by Evolution Gaming, Side Bet City offers a unique twist to traditional live games like blackjack and roulette. Instead of focusing on the main bets, this game revolves around side bets inspired by popular poker variants such as Texas Hold'em and Ultimate Texas Hold'em.
In this guide, we will provide you with everything you need to know to master Side Bet City and maximize your chances of winning. Whether you're a seasoned poker player or a complete beginner, we've got you covered. From the basic rules and gameplay to strategies for success, we'll walk you through every aspect of this exciting game.
Check out more: Megapanalo slot games Philippines
Side Bet City Details & Information
Winning Hand
3 Card Hand
5 Card Hand
7 Card Hand
Royal Flush
100:1
1000:1
500:1
Straight Flush
40:1
250:1
100:1
Four of a Kind
–
100:1
50:1
Full House
–
50:1
7:1
Flush
4:1
40:1
5:1
Straight
5:1
25:1
4:1
Three of a Kind
35:1
7:1
3:1
Two Pairs
–
4:1
–
Pair JJ-AA
–
1:1
–
Any Pair
1:1
–
–
All Lose pays 0.70:1
How to Play Side Bet City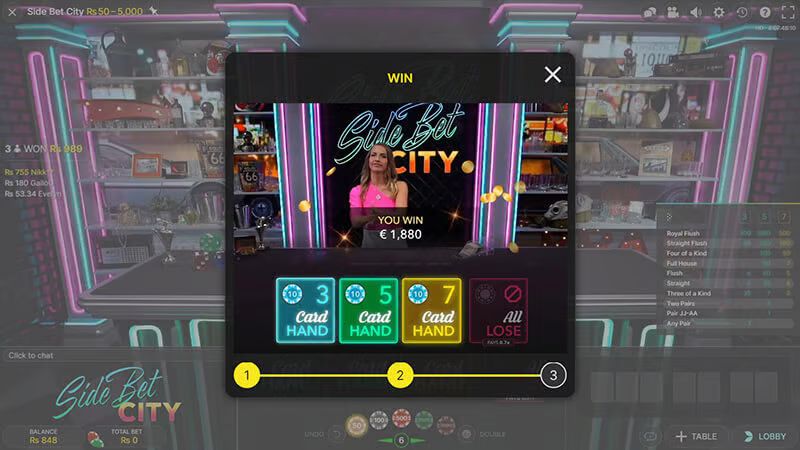 Read through this section to learn how to play Side Bet City! You will learn about 3 card hand, 5 card hand ,7 card hand, all lose bet and placing your bets.
1.3-Card Hand, 5-Card Hand, and 7-Card Hand
Side Bet City is played with a standard deck of 52 cards, which is shuffled at the beginning of each round. You have three betting options:
3-Card Hand: In this bet, you predict the outcome based on the first 3 cards dealt from the deck.
5-Card Hand: Here, you bet on the result of the first 5 cards dealt.
7-Card Hand: This bet involves predicting the best 5-card hand from all 7 cards dealt.
2.All Lose Bet
If you're feeling adventurous, you can place a bet on the "All Lose" option. This means you're betting that there will be no winning hand in that round.
3.Placing Your Bets
Once you've chosen your preferred betting option, it's time to place your chips. Side Bet City provides a variety of chip denominations to suit your playing style. You can place your chips on a single bet or spread them across multiple bets.
The game's user-friendly layout makes it easy to follow and understand. If you're not familiar with poker hand rankings, don't worry. The game will display the rankings on the right side of the screen as soon as it starts.
Check out more: Megapanalo online fishing
Game Features of Side Bet City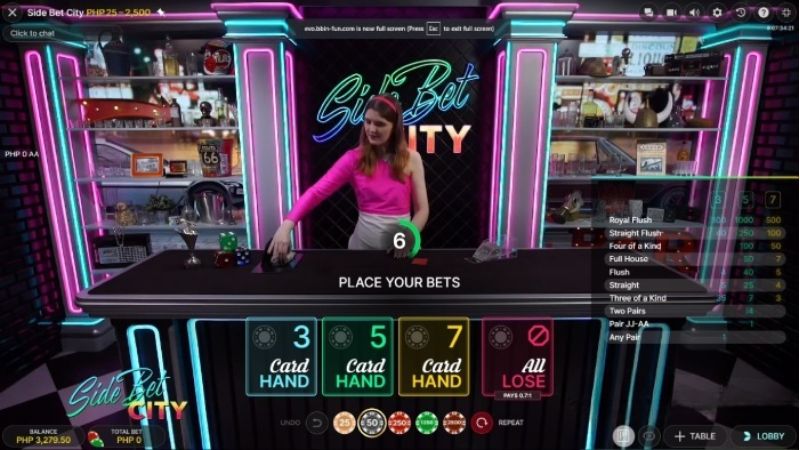 The game features of Side Bet City is really attractive, included neon brigth 1980 vibes, simplified poker experiences and thrilling side bets. Let's dive in and checkout each of them below!
1. Neon-Bright 1980s Vibes
Evolution Gaming has infused Side Bet City with a nostalgic 1980s theme, complete with neon lights and vibrant colors. As you step into the virtual casino studio, you'll be transported back in time to the era of big hair, flashy outfits, and non-stop entertainment.
2. Simplified Poker Experience
While Side Bet City is based on Texas Hold'em, you don't need extensive poker knowledge to play. The game simplifies the poker experience by allowing you to focus solely on the betting aspect. This accessibility makes it enjoyable for players of all skill levels, from beginners to experienced poker enthusiasts.
3. Thrilling Side Bets
Side bets take center stage in Side Bet City. These additional bets provide opportunities for big payouts, separate from the main game's outcome. You can indulge in the excitement of side bets without being directly affected by the win or loss.
Side Bet City Winning Strategies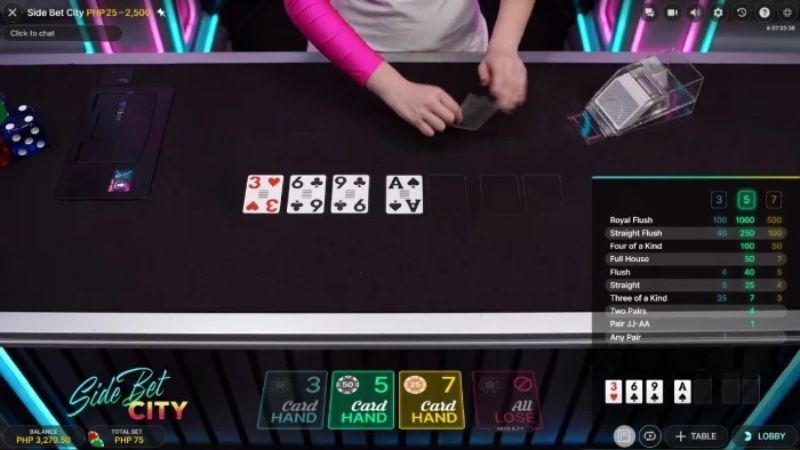 Apply our 5 winning strategies below to win at Side Bet City, included understand the payouts, manage your bankroll, consider side bets, study the game's trends, practice with demo versions and play at reputable casinos
1.Understand the Payouts
Familiarize yourself with the different payout rates for each bet in Side Bet City. Knowing the odds and potential returns can help you make more informed decisions when placing your bets.
2.Manage Your Bankroll
Set a budget for your Side Bet City session and stick to it. Avoid chasing losses or betting more than you're comfortable with. By managing your bankroll effectively, you can enjoy the game without risking more than you can afford.
3.Consider Side Bets
Side Bet City offers various side bets with different payout rates. While they come with higher risks, they also provide the opportunity for larger winnings. Evaluate the odds and decide if you want to include side bets in your strategy.
4.Study the Game's Trends
Pay attention to patterns and trends that emerge during your gameplay. While Side Bet City is ultimately based on random card outcomes, identifying any trends can give you a better sense of when to increase or decrease your bets.
5.Practice with Demo Versions
Before wagering real money, take advantage of demo versions or free play options offered by online casinos. This allows you to get familiar with the game's mechanics, betting options, and potential outcomes without risking any actual funds.
6.Play at Reputable Casinos
Choose reputable online casinos that provide fair and trustworthy gaming environments. Look for platforms that are licensed, regulated, and audited by independent organizations to ensure a reliable and secure gaming experience.
Remember, there is no guaranteed winning strategy in gambling, and results are based on chance. Always gamble responsibly and prioritize the enjoyment of the game over solely focusing on winning.
Check out more: Megapanalo live casino games
Trusted Casino To Play Side Bet City

Trusted Casino to play Side Bet City is Megapanalo. Megapanalo Casino is an excellent online platform to indulge in the exciting game of Side Bet City. With its user-friendly interface, extensive game selection, and enticing bonuses, Megapanalo Casino provides a top-notch gaming experience for players of all levels.
At Megapanalo Casino, you'll find Side Bet City among their impressive array of table games. The platform boasts a visually stunning and immersive environment that replicates the thrill of a land-based casino. The game is powered by cutting-edge software, ensuring smooth gameplay and realistic graphics.
One of the standout features of Megapanalo Casino is its commitment to player satisfaction. The casino offers a generous welcome bonus to new players, providing them with extra funds to explore Side Bet City and other games. Additionally, regular players can take advantage of various promotions, including reload bonuses, cashback offers, and loyalty rewards.
Check out more: Megapanalo live casino games guide
Side Bet City offers a refreshing twist to traditional live casino games, combining the nostalgia of the 1980s with the excitement of poker-inspired side bets. In this guide, we've covered the basics of the game, from its gameplay mechanics to the unique features that make it stand out.
When playing Side Bet City, it's important to understand the different betting options and choose a strategy that suits your preferences. While luck plays a significant role in any casino game, applying a thoughtful approach to your bets can enhance your chances of success.
Remember, gambling should always be done responsibly. Set limits for yourself, manage your bankroll wisely, and never gamble more than you can afford to lose. Whether you're looking to dive into the neon-lit world of Side Bet City or explore other casino games, always prioritize fun and entertainment while keeping your gambling experience enjoyable.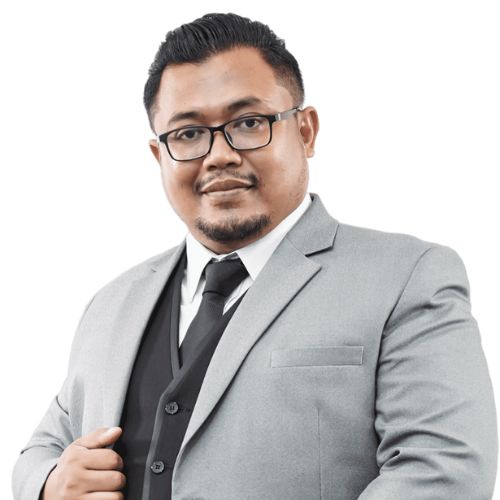 Blog Manager at Megapanalo
Jonathan Johari, a dedicated and experienced Blog Manager at Megapanalo Online Casino, a premier online casino based in the Philippines. With a passion for the world of gambling and entertainment, Jonathan curates engaging and informative content that keeps players informed about the latest trends, strategies, and updates in the dynamic realm of online casino gaming. Armed with a deep understanding of the industry, Jonathan strives to create a vibrant and enriching experience for players as they explore the diverse array of games and opportunities that Megapanalo Online Casino has to offer.
This blog post contains general information and advice, intended for educational and informational purposes only. The content provided in this post is not intended as a substitute for professional guidance or personalized advice. Readers are advised to consult appropriate professionals in the respective fields to address their individual needs and concerns.
This blog post is intended to provide general information and advice, but it is not a substitute for professional guidance. Readers should exercise their own judgment and seek appropriate professional advice before making decisions based on the information provided here. The authors and publishers are not liable for any consequences arising from the use of this information.